30 Minute Butter Chicken Meatballs
A delicious mix of cozy and healthy. This dish incorporates a variety of Indian spices, all with an abundance of health benefits. These meatballs are extra saucy, quick, easy, and delicious. Serve over steamed rice with a side of naan.
What will you need?
Ingredients:
1

 

pound

 

ground turkey or chicken

1

 

egg

1/2

 

cup

 

panko bread crumbs

kosher salt and pepper

2

 

tablespoons

 

extra virgin olive oil

1/2

 

yellow onion, chopped

2

 

cloves

 

garlic, minced or grated

1

 

inch

 

fresh ginger, grated

1

 

tablespoon

 

garam masala

2

 

teaspoons

 

curry powder

2-3 scoops 

Anti-Inflammatory Turmeric Latte Mix

1

 

teaspoon

 

cinnamon

1

 

teaspoon

 

cayenne pepper, more or less to taste

1

can (6 ounces)

 

tomato paste

1

 

can (14 ounces)

 

full fat coconut milk

1/2

 

cup

 

plain greek yogurt

2

 

tablespoons

 

butter

1/4

 

cup

 

fresh cilantro, roughly chopped

steamed rice and naan, for serving
Step 1:
 Preheat the oven to 450 degrees F. Line a baking sheet with parchment.
Step 2:
Add the chicken or turkey, egg, bread crumbs, and a pinch each of salt and pepper to a bowl. Coat your hands with a bit of olive oil, and roll the meat into tablespoon size balls (will make 15-20 meatballs), placing them on the prepared baking sheet. Transfer to the oven and bake for 15 minutes or until the meatballs are crisp and cooked through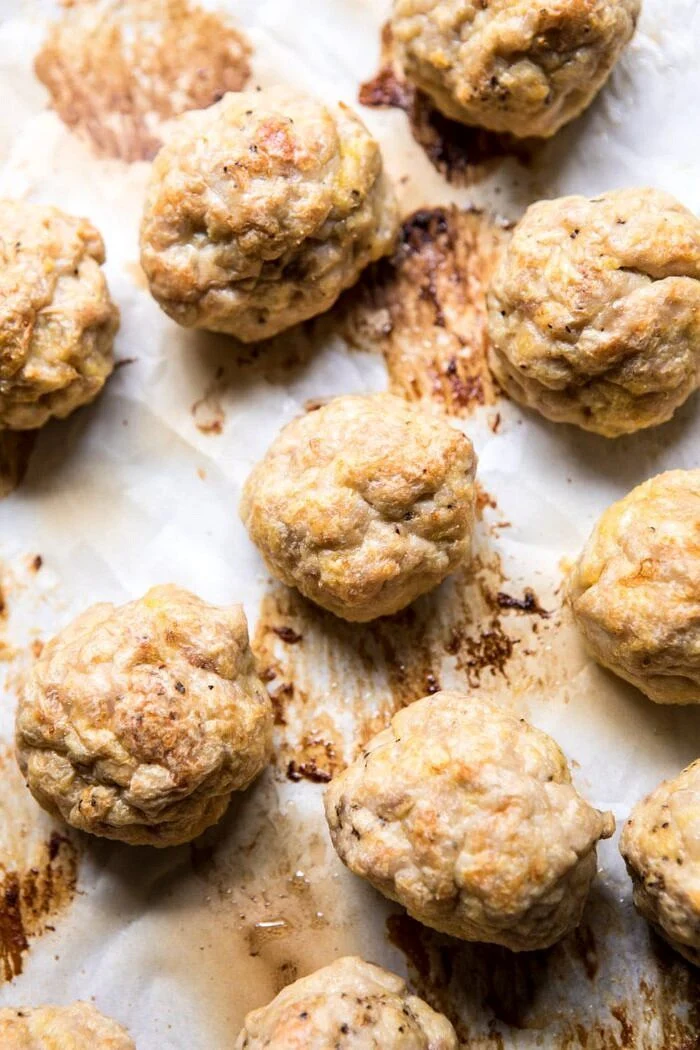 Step 3:
Meanwhile, heat the olive oil in a large skillet over medium heat. Add the onion and cook 5 minutes or until fragrant. Add the garlic and ginger, cooking another 5 minutes. Season with salt and pepper.
Step 4:
Stir in the garam masala, curry powder, turmeric latte mix, cinnamon, and cayenne and cook until fragrant, about 1 minute.
Step 5:
Add the tomato paste, coconut milk, and 1/2 cup water. Stir to combine, bring the sauce to a boil, cook 5 minutes or until the sauce thickens slightly. Stir in the yogurt and butter. Add the meatballs and cook, stirring occasionally, until the sauce thickens slightly, about 5 minutes. Remove from the heat and stir in the cilantro.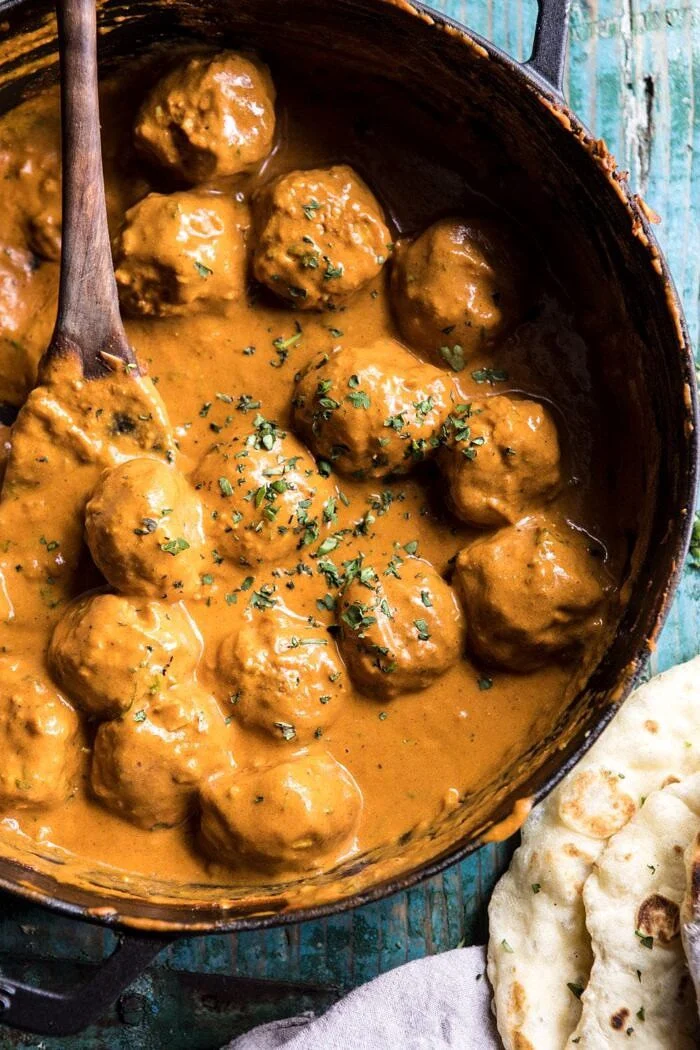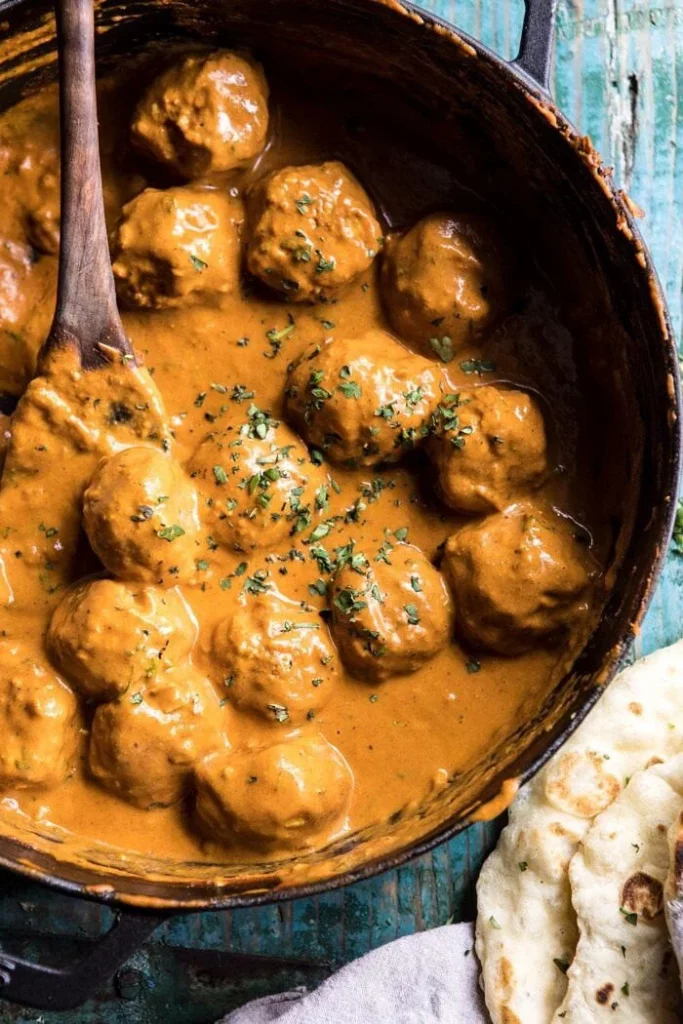 Step 6:
Serve the meatballs and sauce over bowls of rice with fresh naan. Enjoy!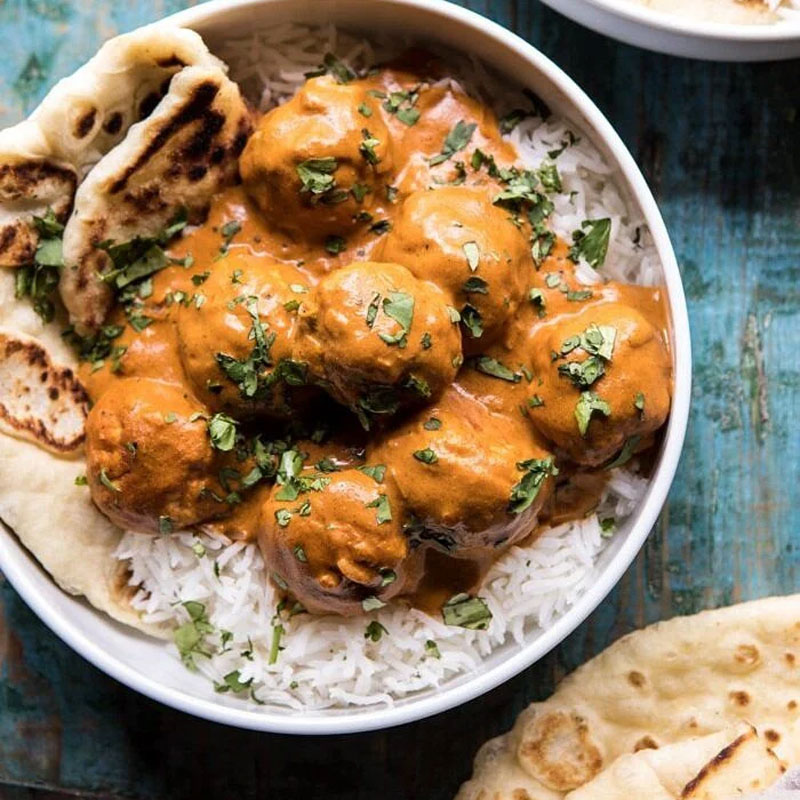 The scope of benefits we can derive from a regular intake of turmeric is largely dependent on the quality of the product itself.
We've sourced all of our turmeric from Grenera Organics, where the plant is grown and harvested under ideal conditions, within their 300 acres of farmland.
Not only does this ensure that our products feature turmeric that has been planted, cultivated and harvested according to organic practices, but it also means that the beneficial aspects of the rhizomes are all the more potent. More specifically, Grenera Organics' turmeric powder comprises between 4-7% curcumin – a high concentration for the turmeric rhizome, which often comprises around 3% curcumin.
We've developed a guide on the many uses and benefits of Turmeric to further explain why we use the best Turmeric in our natural remedies like our Golden Milk Latte and Turmeric Relief Cream
Read more