Turmeric Latte Pumpkin Pockets
The air fryer does it again! These delightful crescent pockets are stuffed with a creamy turmeric latte pumpkin filling and cooked in the air fryer to golden-brown perfection. Top each with a drizzle of sweet icing and a sprinkle of chopped pecans, and dig into your new  superfood favorite fall breakfast or dessert treat.
What will you need?
Crescents
Drizzle
1/2

cup powdered sugar

2

teaspoons milk

1/4

teaspoon vanilla
Topping
2

tablespoons chopped pecans
Step 1:
Cut two 8-inch rounds of cooking parchment paper. Place one round in bottom of air fryer basket. Spray with cooking spray.
Step 2:
In small bowl, mix granulated sugar and Turmeric Latte Powder. In medium bowl, beat 4 tablespoons of the sugar mixture and the cream cheese with electric mixer on medium speed until well blended; add pumpkin, and beat until well mixed.
Step 3:
If using crescent rolls, separate dough into 4 rectangles; reshape each rectangle to form 6×4-inch rectangle, firmly pressing perforations to seal; if using dough sheet, unroll and cut into 4 (6×4-inch) rectangles. Then cut each 6×4-inch rectangle in half crosswise to get 8 (3×4-inch) rectangles.
Construction Instructions
Step 4:
Spoon a generous tablespoonful pumpkin mixture onto center of each rectangle to within 1/2 inch of edges. Fold dough in half from top over filling; firmly press around edges with fork to completely seal. Place 4 filled crescents onto parchment round in basket of air fryer. Brush tops of dough with half of the melted butter; sprinkle with half of the remaining sugar mixture.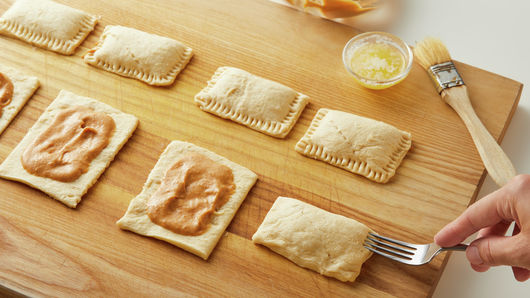 Crispy Air Fried Perfection
Step 5:
Set air fryer to 325°F; bake 7 to 10 minutes or until deep golden brown on top and sturdy enough to turn over with tongs. With tongs or spatula, carefully turn over crescents, and bake 2 to 4 minutes longer or until dough is golden brown and thoroughly cooked. Cover loosely with foil to keep warm while baking second batch. Repeat for remaining filled crescents, and place on remaining parchment round in basket of air fryer; brush with remaining melted butter, and sprinkle with remaining sugar mixture. Bake as directed above.
Step 6:
In small bowl, mix Drizzle ingredients, adding milk until thin enough to drizzle. Drizzle onto warm crescents; sprinkle with pecans to serve.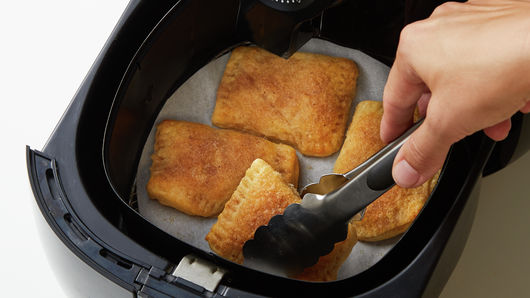 The scope of benefits we can derive from a regular intake of turmeric is largely dependent on the quality of the product itself.
We've sourced all of our turmeric from Grenera Organics, where the plant is grown and harvested under ideal conditions, within their 300 acres of farmland.
Not only does this ensure that our products feature turmeric that has been planted, cultivated and harvested according to organic practices, but it also means that the beneficial aspects of the rhizomes are all the more potent. More specifically, Grenera Organics' turmeric powder comprises between 4-7% curcumin – a high concentration for the turmeric rhizome, which often comprises around 3% curcumin.
We've developed a guide on the many uses and benefits of Turmeric to further explain why we use the best Turmeric in our natural remedies like our Golden Milk Latte and Turmeric Relief Cream
Read more